Individual support begins with a phone call to Council on Aging. Information about resources by phone may be enough, or a visit from a Service Coordinator to your home for a comprehensive consultation may be needed. Making informed decisions, whether for yourself or someone else, is the first step in aging with health and choice. We work closely with many community partners to help older adults access services such as food assistance, major home repairs, transportation, and much more. We are focused on helping you find, navigate, and access services to meet your needs.
---
Maintaining Independence, Dignity & Well-Being
Information & Assistance
Council on Aging provides information and assistance to community members about available resources through service navigators and social workers to answer questions, make referrals, and assist with getting the services and support they need. We offer comprehensive, person-centered information to ensure clients have their needs met with a "no wrong door" approach to community resource coordination. Council on Aging provides information and assistance to persons age 60 years of age of older or are acting on behalf of a person 60 years of age or older.
Provides volunteer transportation to seniors who can longer drive themselves and who cannot access public transportation.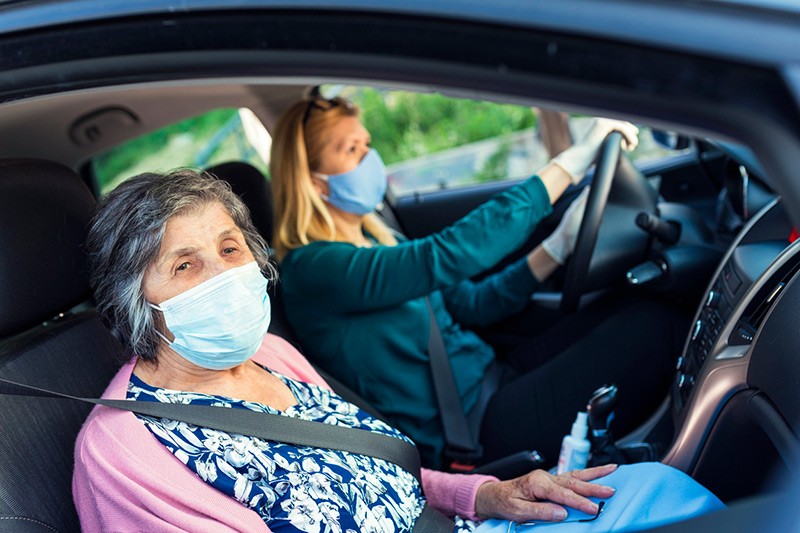 Provides assistance with home safety repair including installing grab bars, shower wands and hand railings.
Council on Aging assists eligible clients in receiving companionship and personal care services from subcontracted and licensed agencies to keep them as safe and independent as possible in their homes. These services include: meal preparation, light housekeeping, assistance with showers, mobility support, medication reminders, toileting, dressing, grooming, and other forms of care. Clients are registered through our In Home Aide Care Manager, are provided with wraparound services and support through Council on Aging and visited throughout the year to ensure goals are being met. We maintain a waitlist and ensure prioritization of service as applicable.
Monthly food boxes are delivered to at-risk elders. We serve Buncombe County residents who lack transportation and social support to ensure they are getting food and supply needs met through volunteers who deliver shelf-stable food bags and essentials.
The Council on Aging of Buncombe County can help you apply for SNAP/EBT food assistance. SNAP is the Supplemental Nutrition Assistance Program and EBT is the Election Benefits Transfer card. Click here for information about the Buncombe County food assistance program. Click here for the United States Department of Agriculture's information about SNAP.
Our Elder Justice Navigator provides care consultation, resources and assistance for survivors and persons experiencing/reporting fraud, abuse, neglect, or exploitation.We help navigate resources that include: legal support, information and assistance, cost savings programs, and more.
Information about caregiver support resources and respite services are provided through the Council on Aging and we encourage you to call us to receive information, support and services.
Click here for the CAPES brochure.
---
Thank you to our supporters!
Council on Aging of Buncombe County is grateful for the support of our donors, local churches, corporate sponsors, as well as local, state and national grant funding that supports the various services within Resource Coordination.